Victorian Disability Worker Commissioner, Dan Stubbs, visited BIM on the 11th of April. This was during the monthly committee meeting, and he and his colleague came to discuss the Victoria Disability Worker Commission and how to go about lodging complaints about disability workers.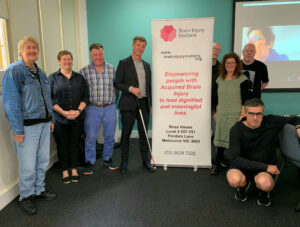 Adam Bandt, the Federal Greens Member for Melbourne, visited Brain Injury Matters on Wednesday the 10th of August. He was there to see how BIM spent some funding on Information Technology. During his time there he sat in on the Tuesday PSG and chatted with participants, and then had morning tea with some others and discuss  plans for BIM.
Click on the above images for a larger version.
ABI Peer Support Groups – Currently running…Northern suburbs Tuesday at 10AM, Southern suburbs Tuesday at 10AM, Eastern suburbs Thursday at 10.30AM, Western suburbs Thursday 10AM
Brain Injury in the Media
How accessible is Melbourne for people with a disability?
19 February 2022
The Age
When Lonely Planet described Federation Square as "not for everyone" the travel bible wasn't referring to its love-it-or-loathe-it aesthetic.
Read the full story (Shared from The Age web site)
Jobs Boost For Disability Sector Win-Win For Victorians
VIC Premier
The Victorian Government will create 600 new disability support jobs as part of a program to help people learn new skills and support Victorians with a disability.
Read the full story (Shared from MIRAGE website)
How does long-term trauma heal? And can you ever be the person you were before it?
In the case of 44-year-old Eva Sifis, turning her acquired brain injury (ABI) into a vocation in the disability sector has helped immeasurably.
But it wasn't the career path she'd originally chosen, by a long shot.
Read the full story (Shared from ABC website)
From devastating injury to Olympic medal, Australia's Owen Wright makes surfing history
Australian surfer had to learn to walk – and surf – again five and a half years ago. Now he has a bronze medal in the sport's Olympic debut
Read the full story (Shared from The Guardian)
Domestic violence survivors are the hidden victims of brain injury, and COVID has made it worse (28 Mar 2021)
Cherie sustained a brain injury through domestic violence. Experts fear those who experience domestic violence did not seek help during COVID-19 and could be living with unknown brain trauma.
Read the full story (Shared from ABC app)
Leaked laws reveal plan to kick Australians off the $22 billion NDIS (26 Mar 2021)
The Morrison government is considering radical reforms to the $22 billion National Disability Insurance Scheme including denying funding to Australians with acquired brain injuries and fetal alcohol spectrum disorder as well as reducing avenue of appeal for participants as part of secret plans to save costs.
Read the full story (Shared from The Age)
AFL veteran receives $1.4 million payout for concussion damage (18 Sep 2020)
Former North Melbourne and Melbourne player Shaun Smith says the payout is formal recognition of the permanent damage caused by repetitive concussions while playing football, and hopes the AFL will do more for players' welfare.
Read the full story  (Shared from ABC app)