Living with an Acquired Brain Injury
By Eva Sifis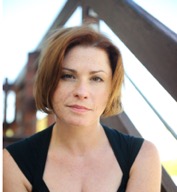 Once upon a time I was a dancer working across Australia and performing cabaret shows in Japan. Sustaining a serious Acquired Brain Injury in 1999 meant that life ended. After my coma, a new one began. I refer to this time as my second childhood. The second one lasted just as long! Everything had to be learnt again – walking, talking, relating and, most importantly, dealing with a new me.
Although this was an extremely difficult period, I realised my capability to overcome – to call upon my resilience and strengths.
My physical rehabilitation was attended to very effectively within the system.
A gap was experienced, however, when the time came to rejoin society.
I have applied myself to recovery: physically, mentally and spiritually with great dedication.
Having worked widely within national disability arts with companies such as Arts Access (SA and Vic) and Club Wild/Wild at Heart (Melb), I have also involved myself with the City Of Port Phillip (Melb) and many other organisations. Whilst living in Adelaide I produced a circus skills program for integrated (disabled/non-disabled) classes of primary school children for Come Out '09.
My journey has seen me volunteer extensively both in the arts (Restless Dance, No Strings Attached – SA) and campaigning with the Wilderness Society – SA.
Some of my studies include massage, reflexology and bodywork with additional education in Wholistic Wellness, Community Development and various disability arts training.
Advanced Hodgkin's Lymphoma did not hold me back from returning to live in Melbourne. There I spent 2012 as an associate director of the Other Film Festival.
Lately, my focus has shifted to that of advocacy and I have taken on a role at Arts Access Victoria coordinating their Scholarship programs. After gaining a training role with Women with Disabilities Victoria, I educate sector workers on the issue of violence against women with disabilities – the most at risk sector of our society. There has been the opportunity to lead peer groups too.
Artistically, whilst living in Melbourne and acting in community theatre, I enjoyed a solo return to the stage at Carlton's La Mama Theatre. My autobiographical story was developed using movement theatre. 'Embryonic Zombie Butterfly' played to packed houses.
Selected as a part of the Australia Council and Unlimited (UK) Sync Program has bolstered my artistic practice. Seasons of development with Ridiculusmus (UK) and performing with Raspberry Ripple have continued my theatrical reawakening. I performed in Sydney for the National Play Festival in 2018.
My story is Chapter 5 of the book 'Fierce and Fabulous – The Feminine Force of Success' and I presented at the Arts Activated Conference in Sydney on how the Arts community has supported me in the formation of my next project.
Gaining the Ethel Temby Scholarship enabled me to develop a training business – By Accident™. Multiple tools have been used to assist my progression and, having interviewed many others with an Acquired Brain Injury, their stories contributed to its formation.
Through a short course of workshops, new ways of perceiving the all-encompassing shift of Acquired Brain Injury are introduced. Strategies explored assist forward movement in life.
A series custom made for the participants, sessions have been structured specifically for the reduced cognitive capabilities of those taking the course.
Supplying information on a very changed reality accompanies tools for negotiating new lives. Featuring as part of the discussion are skills for coping with altered methods of perception, functioning and communication.
Having experienced a complete absence of those that have lived through the upheaval of trauma offering training to seekers, my wish is to change that. This feature is a game-changer.
I look forward to empowering others who may have a learnt sense of incapability by showing that they, too, can progress further than their injuries.