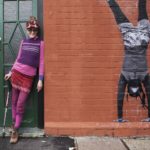 By Larissa MacFarlane
It's been 16 years since we last saw each other. You may or may not know that back in 1998, when I was 29, my beloved bicycle and I collided with a ute. Beside some broken bones tat took forever to heal, I also sustained what they call a Mild Traumatic Brain Injury.
It has had a huge effect on my life. While I looked pretty normal, inside everything was confusing; my thoughts, feelings and indeed my very identity.
Sometimes it felt like someone else's brain and personality had been plopped inside of me, and I didn't know how to be this new person. Sometimes I knew how to do things, like make a phone call, but I couldn't tell this new me how to do them. Sometimes it felt as if I had been locked up and was now hostage to someone else's uncontrollable emotions and behaviour. And for much of the time I was just so fatigued that the best thing I could do was nothing. For a long time, I also struggled with my short-term memory, and couldn't remember things that had only just happened yesterday. Hence it took a very long time to learn about this new person who was still called Larissa.
It was a big change in my life, I lost my ability to do my work. (You might remember that I was an environmental activist, a radio journalist, a writer, a university student and a yoga teacher.) Many of my passions, such as music, travelling and partying, simply disappeared. I found it difficult to look after myself. And some of my friends and family also found me difficult to be with. So, looking back now, I guess it makes sense why I haven't seen you for so long.
But, after 16 years, I have rebuilt a new life. There are many differences. I don't have the amazing, almost photographic memory, (but it was overrated anyway). I no longer understand music, which is terribly sad, but now I am a visual artist instead. I can't fly on planes or enjoy sitting in a café or going to the movies, but I can do handstands! I didn't get to have children, but I learned how to garden and be creative. And while I live daily with chronic pain, I have an awareness and control of my body that would make many yoga students envious.
And my brain is still improving. Through dedicated practice, my reading skills have improved dramatically this year.
I thought that this brain injury would be just a chapter, albeit a long one, in my life. However, I now think it is true when they say that a brain injury lasts a lifetime. But, for all the things that changed with my brain injury, there are many things that are still 'me'. Whilst I wasn't sure if I would ever be able to ride a bicycle again, I did. It took 7 years, it took a few more years to gain back the confidence and skills. I am pleased to report that once again, I love my bicycle. (Now if I could just get rid of all those cars!!).
Dear long-lost friend, I imagine that your life has also been full of unexpected joys and challenges. Both parts of me, the old and the new, wish you well.
With love, Larissa xx