By Brent Alford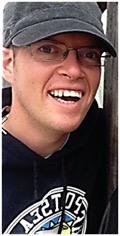 Brent's life changed forever in the early hours of Sunday the 26th of September 2006. Following a 12-hour alcohol fuelled binge he fell head first from the second story of the rear of a Melbourne night club. With 17 broken bones and life-threatening head injuries Brent was transported by ambulance to the intensive care unit of the Royal Melbourne Hospital.
For the next 7 weeks he lay motionless in a coma as his life hung precariously in the balance. The treating physician informed his parents he may well not come out of the coma and they should expect the worst. Their prognosis was that even if he did come out of the coma Brent would be confined to a wheelchair for the rest of his life and would require around the clock care.
Seven weeks after the fall Brent woke up and within a few weeks was transferred to an intensive residential rehabilitation facility. With no use of his left arm and leg and severe frontal lobe injuries he began his new life. Brent refused to accept the doctors' predictions and embarked on an epic journey of rebuilding his life. His story is inspirational, his commitment to keep striving for a better quality of life no matter how hard the battle is a lesson to everyone. As Brent says "There are no limits" Brent now lives by himself and attends the local gymnasium every day. He said goodbye to the wheelchair years ago and now has limited use of both his left arm and left leg.